Electrical Panel Controls For Your AutoDrills
While most AutoDrill customers choose to have a local electrical panel builder provide their controls, AutoDrill does offer some basic referral services. We believe that local support and service is critical for these types of controls and so we do not directly provide them.
Electrical Motor Controls reduce costs. Plan it right and you could save big! Some of the features of your controls may be:
Pre-painted steel NEMA 12
Industrial rated enclosure
Lockable through-the-door disconnect for safety
Professionally built with individual labels on the wiring for easy maintenance
Stop, start, run light
Fuse block, magnetic starter and overload device for each motor
Correctly sized fuses are included
Mounting brackets are integrated and included
Emergency stop provisions at terminal strip included (can be added later)
Industry standard 115 VAC control transformer
Additional Options May Include:
Emergency stop station
Remote stop, start, and indicator station
Larger enclosures for future growth and expansion
NEMA 4 watertight enclosure
Integrated pneumatic controls
Inverter / VFD Motor Controls
Motor stroke controls
Sequencing controls for more complex operations
Oversized control transformer
More…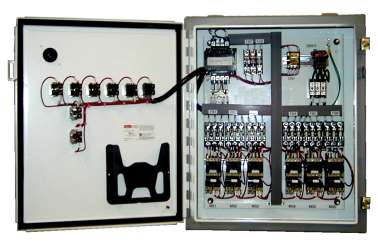 CLICK HERE TO GET IN TOUCH WITH A SPECIALIST NOW.
Your AutoDrills deserve the best!